Thousands of years ago, in a higher age, there was a group of very enlightened seers known as the Saptarishi's or seven sages. They lived much longer than we do now. A need was seen to support people in the future, especially in the current time of transition from the dark to light. They wrote descriptions of thousands of peoples' lives along with remedies for the major blockages they faced.
The rishis wrote by scratching letters on dried palm leaves. We know these leaves as Nadi leaves.
They have been carefully maintained over the many centuries since. Originally written in Sanskrit, many were translated into old Tamil in the 14th century by King Sarbhoji of Tanjore. Those scattered around India although many are still in Tamil Nadu. They collected some into a library near Chidambaram.
The leaves themselves are not just designed to be a life reading but to be read at a certain time. Imagine having a jyotish reading by an enlightened sage done thousands of years prior. They saw your life when the reading would be needed.
Finding your leaf can be an adventure. I heard about them years ago but finding it was a big unknown. There is travel to India, finding a legitimate reader with good skill, waiting for an appointment, having the search, and then repeating the process until your leaf is found. This can be time consuming and costly. I've read a few such stories.
Earlier this year, I found out about someone who has contacts with the mentioned library and readers in India. As the library has a batch of sets, it's much more likely they can find your leaf. Plus, they arrange a remote reading via Skype. Much cheaper than a trip to India.
I'll also note this is a good connection. There are many frauds in this market too, even on YouTube. Think of it like a newspaper sun sign reading vs a detailed description of your life.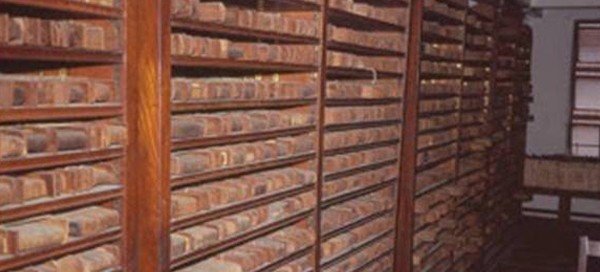 It's still a bit of a process – you pay half up front along with a thumb print they use to determine which sets of leaves to search. There is 108 types of fingerprints in this system. The librarian in India goes to the section for your thumb-print type and meditates, selecting 2-3 bundles your leaf may be in. And they make an appointment. At the allotted time, Vera goes over the process with you, then you both connect with India and meet the reader and translator.
Each leaf starts with a series of qualifying statements. You confirm or deny each one. Like "you have 2 brothers". Or "you're having legal issues". No? Next leaf. Through this long series of yes/no questions you find the right leaf. For me, the matching took 45 min. We found my leaf part way into the second bundle.
Sometimes, the reading can happen then and the balance is due. Sometimes, some preparations are required before the reading, like a puja. And sometimes, the leaf is not found in those bundles.
In the latter case, other bundles can be searched but there obviously isn't a leaf for everyone. Yet if you feel called, it's likely there is one. Or they'll refund you the initial payment.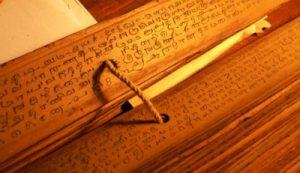 For me, the reading started after a short break. It began by going over the basic details. The leaf included my detailed birth info, fathers name, mothers unusual name, my name, number and gender of my siblings, number and gender of my children, and so on. My teachers were also mentioned by name as true gurus.
Everything existing was accurate. There was an hour of information, some of it sorted by time, talking about significant events for the rest of my life. Some expected, some a surprise. Some very specific advice, like eating more oranges. The sage had a wry sense of humour too. 🙂
They close the reading with remedies for the blockages touched on. These are the most important part, clearing both karmic and ancestral issues. One reading I read about required a puja in a specific temple in India. But usually they are straightforward to do at home. You also have the option of going to a Hindu or Vedic temple if they're available to you.
Don't be fooled by the simplicity of the remedies. As a yagya, they are prescribed specifically for you and are potent, building with each set done properly.
I found the reading itself like a personal yagya. Having the attention of the ancient sage was very beneficial. For example, writing started again after the reading.
The entire process took almost 3 hours.
Note that the content for yours will be different.
Here's the Green Tara Canada website that offers the service.
[Update: the site has been redesigned and everything seems to be fixed there.]
Their response time will depend on the volume of contacts they receive. And it takes time to arrange your reading in India. Yet my reading was at the right time. If it had been when I first contacted them, it would not have been.
Check out their blog for related articles like this one. Other sites and YouTube have other background but as mentioned, the quality offered is highly variable. Green Tara is the real thing, and the reading is done properly. I can recommend them.
Davidya
Last Updated on November 4, 2020 by Davidya
Podcast: Download (Duration: 6:12 — 5.9MB)